Tired of waiting for load after load of clothes to go through the washing machine, then the dryer? Looking for a simpler solution to tackling laundry day? Schedule pickup and delivery service from Spin Plus Laundromat!
Ready to make your next laundry experience as simple as it could possibly be? Follow the instructions below to schedule pickup and delivery service with Spin Plus Laundromat.
Service Features
24-hour service!!
Your clothes will ALWAYS be sorted by color, lights and dark
Treatment of stains & bleach for whites
Detergent & Softener included in all orders
All clothes are washed in water, dried and folded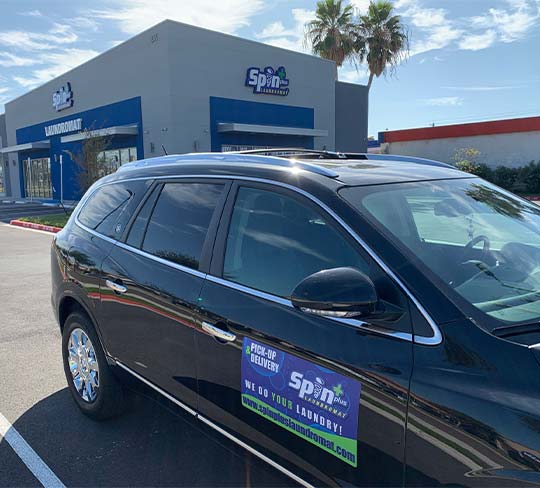 Spin Plus Laundromat
Pickup & Delivery Service Instructions
Call (956) 330-6766, book online or download our App
Place your garments outside your door in a plastic/disposable bag. Not home? Don't worry…We can pick up or deliver at your doorstep
We can also clean your bedding items, just leave them with your clothes as well
When we deliver your order the next day you will receive it freshly cleaned and neatly folded
You can specify any special requests or preferences you may have in our "Notes for Order" field right after creating your order (these notes will remain in your account for future orders)
You will be able to track the status of your order with our APP
*Your clothes are going to be weighed at our store and we will charge you by the pound. Bedding items have a flat rate (see price chart below)
You can create your orders in 2 ways:
Schedule Through Our Website
We make placing your pickup and delivery order simple through our website. Just follow the instructions below and you'll have your laundry scheduled and taken care of in seconds! Rest assured we'll go the extra mile to make sure your experience using our pickup and delivery service is as effortless and convenient as possible.
Just click the SIGN UP button and you will be prompted to our REGISTRATION page
Enter your email and password to create your account
Choose your Pickup Date and Time
Choose your Delivery Date and Time
Enter your payment info
Click SUBMIT
Schedule Through the CleanCloud App
If you already use the CleanCloud App, look for Spin Plus Laundromat and place your order! If you're new to this convenient system, download the CleanCloud App and create an account to get started. You'll have your pickup and delivery order placed in no time at all, and we promise the same great level of service through the app.
Download the CleanCloud App
Enter your email and password to create your account
Input the name of our store (Spin Plus Laundromat)
Schedule your Pickup & Delivery
Enter your payment info
Click SUBMIT
Try It For Yourself!
Try our new pickup and delivery service for yourself today! We promise you'll never go back to waiting around for your clothes to get done washing or drying ever again! Follow the above instructions or stop by any of Spin Plus Laundromat's five convenient locations today to learn more about how it works. Or, give us a call at 956-330-6766.