Laundromat in McAllen, TX and Edinburg, TX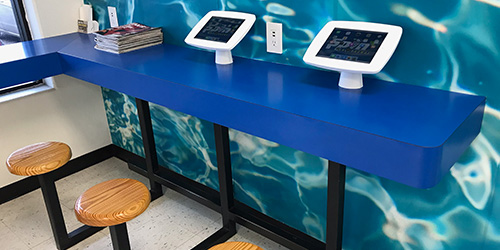 Spin Plus Laundromat is the place to get your laundry done! Our self-service centers feature state of the art washers and dryers, as well as staff that's knowledge in laundering services. Do a few loads with us or leave your clothes to be washed, dried and folded—same day! With on-site amenities and conveniences, you'll start looking forward to laundry day!
We are now hiring for the position of office clerk!
If interested, please send resume and cover letter to [email protected]
Wash, Dry, Fold and Iron Your Clothes
When laundry day rolls around, visit Spin Plus Laundromat. We welcome you with high-capacity, coin-operated washers and dryers, alongside a slew of amenities that help you pass the time while your laundry spins. Our laundromats in McAllen, TX are equipped with everything from free Wi-Fi to snacks and arcade games, so you can keep yourself occupied instead of staring into the spin cycle! We aim to provide facilities that are clean, comfortable and always welcoming—from good lighting and air conditioning, to the friendly individuals behind the counter who are always on-site to help you.
Helpful Laundry Service
When you choose to do your laundry at Spin Plus Laundromat, you're getting access to more than just self-service washers and dryers. We also offer helpful laundry service in McAllen, TX and Edinburg, TX. Drop off your laundry for wash and fold services, and we promise it'll be ready for pickup later that same day! We also offer professional ironing services to keep your clothes looking and fitting perfectly. We invite you to experience laundry day like never before, and we promise you'll be back next time the clothes start to pile up. We make laundry a chore you'll look forward to doing—or at least make it the easiest item on your to-do list!
Our facilities are outfitted with new high capacity washers and dryers. From everyday clothes washing to heavy-duty loads, we'll help you keep things clean.
We offer high-speed Wi-Fi and snack machines for your convenience while you wait, as well as access to arcade games and phone charging stations.
Thanks to our 24-hour surveillance system you can feel comfortable in visiting us any time of the day or night. Our stores are also attended full time.
Give our same-day wash and fold services a try for a simple solution to your laundry. We also offer ironing services for your convenience.
Our stores are meant to make you feel at home. They're always clean, well-lit and air conditioned, so you can do your laundry with total comfort.
Wash Without Worry
Don't dread doing laundry! Instead, visit Spin Plus Laundromat when laundry day rolls around. With all of the conveniences of our updated stores, you can wash, dry and iron in comfort. Proudly offering the best laundry service and laundry supplies to the following areas:
McAllen, TX
Mission, TX
Edinburg, TX
Pharr, TX
San Juan, TX
Alamo, TX
Hidalgo, TX
Donna, TX
La Blanca, TX
Penitas, TX
La Joya, TX
Elsa, TX
Weslaco, TX
Edcouch, TX
Sullivan City, TX
La Villa, TX