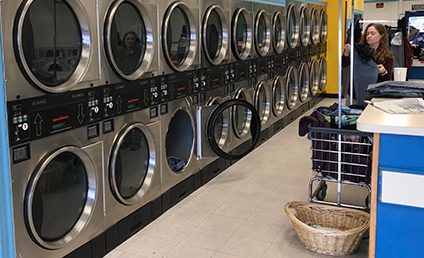 When laundry day comes around, make sure Spin Plus Laundromat is your destination. We'll make this chore easy for you by providing all of the amenities and equipment you need to get it done right.
Our Services
We've got plenty of coin operated washer and dryers in McAllen, TX, for those who want to quickly get their laundry done and over with. But, our service capabilities extend far beyond that! We also offer:
We strive to give you all of the benefits of high-end cleaning services, at a fraction of the price. Stop in and talk to one of our friendly store managers today about wash and fold or ironing services.
*Depending on the current workload of the staff and the load size you bring in occasionally the wash & fold service will have to extend into the next day.
On-Site Amenities
We aim to make sure you're comfortable for as long as you're with us—whether it's for a single load of laundry or a month's worth of overdue batches! Our goal is to give you everything you need to pass the time, including:
Free, high speed Wi-Fi
Snack vending machines
Arcade games
Cable TV
Electronics charging stations
Our Facilities
Our facilities themselves are maintained to the highest standards. You're always under the watchful eye of 24-hour security surveillance so you can feel comfortable visiting us day or night. Plus, we have air-conditioned facilities to keep the Texas heat at bay while you're waiting for your laundry to finish. Everything is clean, well-lit and welcoming.
Staffed Facilities
What sets us apart from other facilities with self-serve coin laundry machines in McAllen, TX is that we're always staffed. Ask questions about our machines, get information about our wash and fold service, or just chat with our staff to make conversation! Stop in today at any of our locations to have a self-service laundry experience that's worlds above what you might be used to at other facilities!
Questions? Give us a call at 956-631-8079.